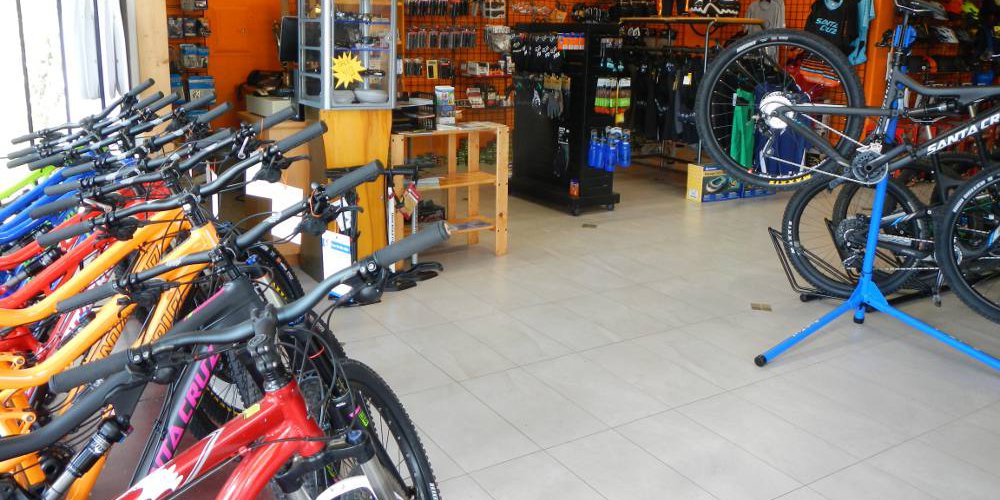 What can we say! We LOVE too ride bikes. Since 1988 we have been in pursuit of great bike rides, and bikes to ride them on. We are able to rebuild suspension forks, rear shocks, press bearings in and out of hubs, and frames, bleed and repair disk brakes, anything bike we can fix. In need of bike advice, or want info on a local trail, come on by and give us a try! See you on the trail…
You can rest assured that your buying experience, at River Rat, will leave you feeling positive and secure that you have chosen the best bike for your needs. Each bike on our sales floor has been expertly built at the shop by a skilled mechanic, test ridden, and the suspension adjusted to fit your weight and riding style. You will go home with a new bike that is tuned and ready to ride!
BIKE BRANDS: IBIS CYCLES, SANTA CRUZ BIKES, AND ROCKY MOUNTAIN .
A Full Service Bike Shop
Repairs and Maintenance:
At River Rat we offer all the repair services you need from a flat tire repair, to a major bike overhaul. We have more than 30 years of bike repair, and maintenance experience. Contact us with questions to check on a repair service that you requested.
Parts Supplies and Accessories:
As a full service bike shop we only offer replacement and upgrade parts from the best names in the business. In our product line you will find top manufacturers like Shimano, RaceFace, Santa Cruz, Sidi 5 ten, Sram, Ethirteen and many more.